PROLOGIS presents itself with a new design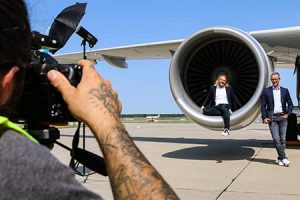 We are pleased to be able to present our new corporate design after 22 years – yellow becomes green, more precisely mint and petrol.
For several reasons we also said goodbye to our old company logo and found the perfect partner for our entire relaunch in the Berlin-based agency Zweiband Media.
The "yellow egg" that has accompanied us for 22 years has been difficult to explain since 2005, when PROLOGIS became a consultancy exclusively focused on aviation. In times of social media, the old design has also presented us with some challenges in recent years.
With our completely new corporate design, we are now transferring our external appearance to the year 2023 and creating an association with aviation. Of course, our philosophy remains the same, you as our customer are the focus! Together with you and our team of experts, we deliver the solutions you are looking for within the given project time and budget.
In short: We now offer you our well-known, reliable, and expert service in the new corporate design!
We hope you like our facelift and our new website as much as we do. We'd love to hear from you about it.
Take a look at the "making-of" of the photo shoot, which we were able to realize together with the advertising and media photographer Philipp Arnoldt in cooperation with our agency Zweiband Media and with the kind permission of Hamburg Airport.
Watch our making of video from Hamburg Airport