transavia.com – Expanding functionality on HV's new inventory and distribution system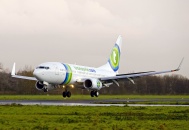 For Transavia – an independent part of the Air France / KLM group – the integration of Basiq Air in 2005 marked the start of its low-cost section and resulted in a change of its business model including the merging of its charter and scheduled services under transavia.com. Part of this strategy was the implementation of web-based bookings of ancillary products such as hotel rooms, rental cars, travel insurance and event tickets.
In essence, everything pointed to the adoption of an all-in-one reservation and distribution system, which ended up being New Skies® by Navitaire.
THE CHALLENGE
Functional & technological consulting in cooperation with Transavia

Conjoint analysis of current Open Skies® and New Skies® functionalities
Analysis of current & future environment
Risk management
Support in general system setup (i.e. fares)

Project management & coordination of resources of all ICT – related activities

Project planning and –management of all ICT–related activities
Resource planning & support
User acceptance testing

Development & providing of a web-based fully automated UAT test tool
Setup & administration of test tool
Definition of test cases together with key users
Support of key users during testing
Follow-up and documentation of test results
IPR–management
Definition & communication of necessary bug fixings
Definition & setup of system-enhancement list

Interface testing

Development & providing of automated API-Interface testing tool
Automated testing

Support after migration

Follow-up enhancement list
Follow-up bug fixing
Active user support

Communication interface between provider (Navitaire) and airline

Moderation of conference calls on regular basis