Change in Management Board at PROLOGIS AG
Gerd Pontius hands over the management of the company to Jürgen Krumtünger and Matthias Hansen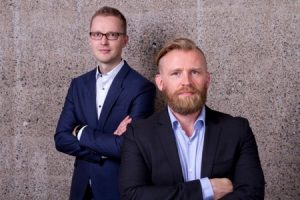 Jürgen Krumtünger and Matthias Hansen are being appointed to the Management Board of PROLOGIS AG and will jointly succeed Gerd Pontius, the current sole Managing Director. The changes will take effect from January 1, 2018, and form part of a long-term succession plan. Both new Board members have been with PROLOGIS AG for over a decade and, as Management Consultants, have been operationally responsible for the consulting teams and the success of client projects.
Krumtünger and Hansen will share responsibility for the management of PROLOGIS AG, which provides expert knowledge and services for the airline industry and which, to date, can count more than 80 airlines in over 30 countries worldwide as its customers.
Hansen, who is responsible not only for administration and finance within the company but, above all, also heads up the IT consultancy services of PROLOGIS AG, commented on his appointment: "Airlines are under tremendous pressure to change, especially when it comes to systems technology.  I am very much looking forward to the challenge of further developing PROLOGIS AG's expertise, thereby ensuring that our clients will be able to meet all their future technological challenges."
Krumtünger, his equal partner on the Board, added: "In my 12 years with PROLOGIS AG, I have always been aware how important the trust of our clients in both our expertise and our commitment is for the acceptance and success of PROLOGIS AG in aviation.  It is a great honor to now be responsible for the continued strengthening of our reputation."  He will be the Board member responsible for sales, marketing and business development.
The current Managing Director, Gerd Pontius, stated: "I am very happy that, following a long transition phase, I can now officially hand over responsibility for PROLOGIS AG to Jürgen Krumtünger and Matthias Hansen. For many years now, both have stood for everything that our clients value about PROLOGIS AG."
Gerd Pontius will continue to be a shareholder in PROLOGIS AG, as well as Managing Director of PROLOGIS STRATEGY AG. He will also continue to offer his consultancy services on the strategic issues concerning the aviation industry.