Sun Express: From zero to budget in less than six weeks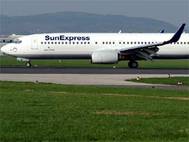 SunExpress, a joint venture between Turkish Airlines (Turkey) and Condor (Germany) based in Antalya (Turkey), operates daily scheduled and charter flights throughout Europe with a fleet of up to 15 Boeing 737-800.
Their need for more rapid and clear-cut abilities to manage financial processes and make comparisons inside the group were but two reasons for implementing a new cost management system which could integrate the most critical processes of budgeting, financial controlling and purchasing. The main objective of the new system was to achieve the performance of their entire budget process within the new application including a route profitability forecast for the next 12 months. The timeline was ambitious, as it was essential for Sun Express to have finalized the budget in less than two months after starting the system implementation.
Katja Schomburg, a Senior Consultant with PROLOGIS, was in charge of project management on behalf of Sun Express.
"Katja: What made the Sun Express project so special?"
Katja Schomburg: "When the project started in September of 2004, the initial objective and the narrow timeframe had already been defined:
The goal was to get Airpas running to enable the responsible team to generate accurate budgeting data and deliver trustworthy reports based on realistic figures and contract data. These reports had to be presented at a budget meeting scheduled for mid-October 2004.
"Due to both of these challenges, SunExpress agreed to attempt the almost impossible: finalize the project in less than six weeks even though such a project would normally require 3 – 5 months!"
"What did you have to do to make this a success story?"
Katja Schomburg: "At first SunExpress and all parties involved had to commit to providing the required human resources. Secondly the entire team had to agree to work at the utmost to manage the project at any cost in terms of work. There was no margin for mistakes and absolutely no time to lose.
"At the end it worked out well. A well organized, competent and highly motivated team from both Sun Express and the software provider Airpas Aviation was formed quickly and worked out of SunExpress's headquarters in Antalya. The team was trained to meet all of the predefined requirements while being informed of the business processes that would have to be addressed. Then the data to be entered into the new system was defined. Finally responsibilities were assigned and common terminology was agreed upon. The missing hardware infrastructure was provided by Condor, one of the parent companies. Last but not least each and every team member found a way to deal with a mixture of different languages by learning to use almost all of them."
The team was successful in getting the new system running in time to deliver data on all DOCs (Direct Operating Costs) and calculate the budget and budget scenarios.