Thomas Cook and Condor searching for the airline cost killer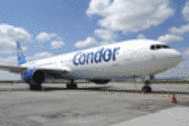 In January 2003 Condor – part of Thomas Cook AG, the second largest tour operator in Europe – asked for bids on a contract to design a new approach to financial controlling and to implement an integrated system to support the following areas: contract management, route profitability calculation, budget planning and checking, invoice checking of airlines belonging to the group. A new type of system and processes was required in order to restructure their European airlines by creating transparency with regard to service data and costs.
The project planning of Thomas Cook set an ambitious target:
to use a new system to support the budget planning process for the business year 2004/2005. As a result of a software evaluation project, Thomas Cook and Condor decided to buy and implement the Airpas standard software, the world's market leader regarding financial IT solutions for airlines.
The implementation of the new cost management system as an integrated element of the restructuring process was the main challenge for project management and the project members. Concurrent changes in organization and processes demanded a great deal of flexibility from all involved. Following its start in mid-January of 2004, the project was live for invoice control and in a test phase for the comparison of budget and actual figures 5 months later. Direct and indirect costs had generally been identified through entering all service contracts related to ground handling. Other costs had been calculated using standard costs.
The project team and the users really did not have much time. Along with tariff and parameter data entry for the coming year and the testing of Airpas results, the actual figures from winter 2003/04 had to be compared with the actual figures from the previous system. In addition, specifications, realization, tests and acceptances had to take place for numerous source systems that had to be interfaced. All of these challenges, but also customer-specific changes and enhancement requests, needed to be addressed.
In addition to the cost management system, PROLOGIS designed a data warehouse as a platform for airline reporting and the management information system (MIS) used by the Condor management.