Thomsonfly flies to a new inventory and distribution system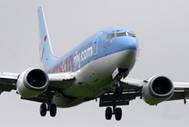 Thomsonfly's migration to NewSkies®
When Thomsonfly (UK), one of the largest British tourist carriers with 47 aircraft, decided to migrate from OpenSkies® to NewSkies®, it involved months of preparation: Thomsonfly finally launched its new sales platform on 31 March 2007.
NewSkies® is the successor to the OpenSkies® system, which Thomsonfly had used since its 2003 launch, and provides the business not just with a state of the art reservation system for the future, but a platform to unify the customer proposition across holidays, charter flights and scheduled flights.
THE CHALLENGE
In this project PROLOGIS was responsible for the complete implementation. This included:
Overall planning of system implementation, migration and resources
Management of the migration of 13 Interfaces, e.g. API, website, two payment providers, data warehouse, etc.
Definition and management of user acceptance tests (based on the web-based PROLOGIS UAT Tools) as well as tracking and solution of system and interface issues
Planning, execution and quality assurance of the data migration from OpenSkies® to NewSkies®
Concepts for system set-up and for optimized processes based on the system
User support and key user training during and after the migration
Overall planning and communication with Navitaire Inc.
Additionally PROLOGIS developed individual reports for Thomsonfly based on the NewSkies® reporting frontend
SUCCESS
PROLOGIS' involvement took pressure off the business, allowing it to concentrate largely on day-to-day operations.
Due to the know-how that PROLOGIS has concerning NewSkies® implementation and project management, the team was able to deal successfully with issues as they arose, while at the same time solving critical go-live situations.
The go-live of NewSkies® took place on the planned date and took just eight hours (one of the fastest migrations ever).
Downtime during migration had no impact on revenue or booking figures.
Thanks to intensive software tests and anticipatory planning, the post-migration phase ran smoothly, without major problems.
By migrating to NewSkies®, Thomsonfly has made a crucial step in the strategic development of its business.
" The successful migration was a huge effort bringing together various teams from Thomsonfly and our external expert consultants Prologis, all expertly project managed by Thomsonfly's and Prologis project managers to whom we owe a big vote of thanks. The fact that we appeared to lose no business at all over the weekend is a quite remarkable achievement and the team can be very proud of themselves."
Guy Stephenson, Commercial Director, Thomsonfly