PROLOGIS at the Aviation Symposium in Frankfurt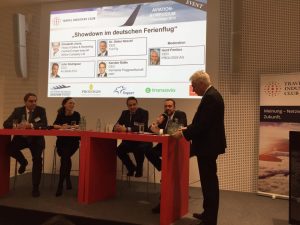 On December 1, 2015, Germany's Travel Industry Club hosted the 1st Aviation Symposium in Frankfurt. The event was aimed at experts and representatives of the German travel and aviation industry. PROLOGIS was one of the main sponsors and took an active part both with regard to selecting the event's topics and speakers and on stage. The morning session under the slogan "Showdown in the German leisure flight industry" was moderated by PROLOGIS' CEO Gerd Pontius.
The panelists represented airlines with different business models and different strategies: Elisabeth Jesse (easyJet), Dr. Dieter Nirschl (TUIFly), Julio Rodriguez (Air Berlin) and Karsten Balke (Germania). In the afternoon, the spotlight was on the passenger: "Who owns the customer?" was the title of Thomas Cook CEO Jean Christoph Debus' keynote and the following panel discussion. The relevancy of big data for travel agents, tour operators and airlines is enormous. Oftentimes this information is already available, but the stakeholders need to make use of it in a better way, i.e. at the right point of sale and the right point in time.
The Travel Industry Club has just published a video from the Aviation Symposium on their website (in German).